"A Guide to the North American Obeast" Two-Book Set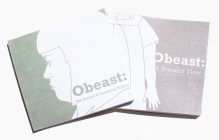 Hooray! The obeast book set is available for purchase online through Publication Studio HERE. They are also available at the Institute for Contemporary Art (ICA) in Portland, Maine.
Here's the publisher's blurb:
A Guide to the North American Obeast by Rachel Herrick
This two-book set explores artist Rachel Herrick's cuttingly humorous obeast project from the inside out.
Obeast: A Natural & Unnatural History, the first book in the set, is a collection of (fictional) scholarly articles about the biology, history, and conservation of the endangered North American Obeast, a genus of bipedal ungulates performed by Herrick to satirize the everyday dehumanization of fat bodies in our culture's current frenzy over the "obesity epidemic." Further, by placing obeasts within a scientific context (via both these pseudo scholarly articles and her elaborate Museum for Obeast Conservation Studies (MOCS) installations) Herrick explores the power dynamics inherent in information dispersal, fact creation, identity formation and stigma.
Obeast: A Broader View, the second book in the set, locates the obeast project in a wider cultural context through a collection of (real) scholarly articles by seven contributors writing from the places where their current research and interests intersect with Herrick's work. The obeast project incorporates many academic fields (including science, cultural identity, satire/hoax/comedy, fat activism, and feminism), and appropriately this academic range is reflected in the backgrounds and topics of this book's contributors, which include fat activist Marilyn Wann, art historian Stefanie Snider, philosopher Chuck Dyke, comedian Jenny Hagel, political scientist Jennifer Denbow, historian Carl Dyke, and curator Rebecca Duclos.
$35 soft cover; $17.50 DRM-free ebook
Set of two books, book one 75 pages, book two 91 pages pp.
7.5″ x 8″
View sample pages: 1, 2, 3, 4
ISBN: 9781624620159
hashtag: #twshsPubStud